Dee Creations Presents Rang – The Colors. Kathak dance by Keya Chanda & Tanmoyee Chakraborty
August 18 @ 4:30 pm
$20
Over the centuries, many cultures across the world have used colors as a tool to heal. They believe colors influence the mood, emotion, mind, body, and
calm the nervous system. Rang is a unique presentation using those seven colors of the energy ecosystem of an individual, known as chakras. This
performance will showcase the power and significance of each color of the chakras, balancing our lives towards universal peace.
This breathtaking act will be performed by the dancing duo, internationally acclaimed Kathak dance exponent, choreographer, Keya Chanda, who is a
gold medalist and a member of International Dance Council, UNESCO,Paris. She is a disciple of Smt. Rani Karnaa, Pdt. Bachan Lal Mishra, and Pdt.
Birju Maharaj, AND extremely talented, young, vibrant and energetic Tanmoyee Chakraborty who is the daughter and disciple of Guru Keya Chanda. She
is also a gold medalist and privileged to learn from various Kathak masters including Pdt. Birju Maharaj.   To purchase tickets please click here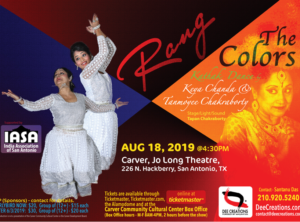 *****This production is not a presentation of The Carver Community Cultural Center or The Carver Development Board*****